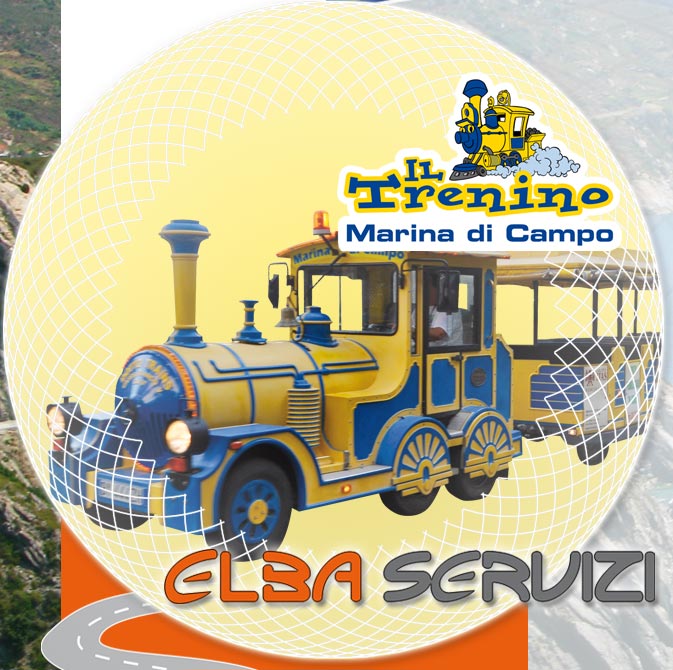 Tourist Train
Hop on the mini train with us, it's a service offered by Elbaservizi. The sightseeing train is another way of visiting Elba. Everyday our sightseeing trains allow you to visit fascinating spots of Marina di Campo and Portoferraio.

Some curiosities on our mini train
What can a sightseeing train (mini-train)offer you that a bus or tramway cannot?
The charm of a mini-train is that of something used for other context than the one that we are usually used to see. This creates wonder and curiosity. According to Pablo Picasso the only thing certain was that statues did not move, till one day Alexander Calder created moving sculptures.

Due to its limited width and to its 4 wheel steering the mini-train is an excellent alternative that allows you to visit many tourist locations in Elba without using public transportation. The mini-train not only meets tourist's needs but is very useful for everyday movements in small towns or cities, respecting the sensibility of all environmental problems. Similarly, the cliché has it that the trains run on tracks ,Dotto instead proposes a track free train without set routes and then invites us to experience this unusual experience on the Island of Elba, with a sort of hybrid between a train and a car.

A real light rail that allows you to move everywhere, from city centers to any site with a dash of style. It is practically impossible not to get involved by a passing train, that invariably manages to snatch a smile ... Follow our train tracks! It will conquer the children and give a smile to the adults!
NEWS